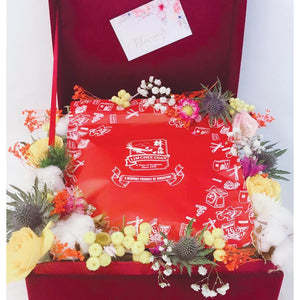 Perfect Classic Box A (BBQ Chicken/Pork)
Regular price $160.00 Sale
Thinking of bringing something special to your loved ones? The perfect classic box consists of preserved floral arrangement (shelf life of 3 to 5 years) and high quality handcrafted barbeque meat ("Bak Kwa"), a specialty not to be left out for Chinese New Year. It is a snack loved by many during the non-festive period as well.
Box Dimension: L25cm x W25cm x H30cm
Flowers: Mix of fresh and preserved flowers (shelf life of 3 to 7 years)
Color Theme: Yellow, White
Gift Options: 200g Lee Chee Guan BBQ Pork/Beef/Chicken/Fish (to be consumed within 7 days from day of purchase)
Note: Photo is for illustration only. Bloomeys reserves the rights to replace flowers with fresh seasonal blooms available.