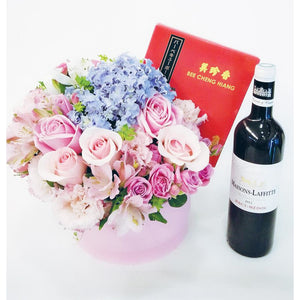 Perfect Classic Box C
Regular price $240.00 Sale
An elegant marriage of the specially curated french wine, Le Haras MAISONS Laffitte 2012 and high quality handcrafted barbeque meat ("Bak Kwa"), a specialty not to be left out for Chinese New Year. It is a snack loved by many during the non-festive period as well..
Box Measurement: D20cm x H11cm
Approximate Arrangement Dimension: D32cm x H35cm
Fresh Flowers: Hydrangeas, Eustomas, Rose Spray.
Color theme: Blue, Pink
Gift Options: 280g Bee Cheng Hiang BBQ Pork/Chilli Pork/Sliced Beef flavours (vaccum packed, suitable for overseas travel) + Le Haras MAISONS-Laffitte 2012
Note: Photo is for illustration only. Bloomeys reserves the rights to replace flowers with fresh seasonal blooms available.