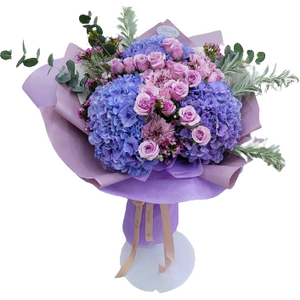 Lavender Serenade
Regular price $368.00 Sale
Hydrangeas symbolize true feelings is said to convey sincere emotions and the meaning of love to the recipient.
This name embraces the serene and enchanting combination of lilac hydrangeas and lilac roses in the bouquet. "Lavender" evokes the soothing and delicate hues of the flowers, reminiscent of the calming scent of lavender. "Serenade" signifies a melodic and romantic gesture, capturing the elegant and harmonious nature of the arrangement. The lilac hydrangeas and roses create a beautiful blend of textures and shades, exuding a sense of grace and charm.
Bouquet comes in 1 size, arranged with 3 stalks of purplish blue hdyrangeas+pink or lilac roses/roses spray +foliage
Foliage would depends on the fresh blooms available.