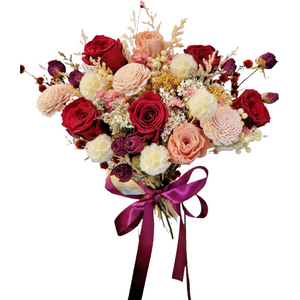 Eternal Enchantment (Pre-order of 3days required)
Regular price $172.00 Sale
the timeless and enchanting nature of a preserved flower bouquet, reminiscent of the classic "Beauty and the Beast" theme. "Eternal" represents the longevity and everlasting beauty of preserved flowers, as they retain their elegance and charm for an extended period. "Enchantment" evokes a sense of magic and wonder, reflecting the captivating allure of the bouquet. This name pays homage to the enchanting tale of "Beauty and the Beast," infusing the bouquet with a touch of timeless romance and elegance. 
Preserved flowers make the best everlasting display with a life span of 2 to 3 years.
The blend of colors and flowers  is design to convey your deepest affection, and passion.



Features: Preserved roses, Sola flower and other preserved foliage